PROGRAM 2019, 22.-23. October
We will keep updating programs and details in the coming weeks. The information contained herein is subject to change without prior notice, please check back for updates.
Exoskeletons towards Industrie 4.0: Implementation as a Communication Tool in Manufacturing
Fraunhofer IPA
GERMANY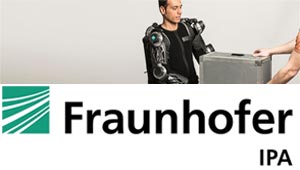 During the last decade, the benefits of exoskeletons for industrial purposes as ergonomics tools have been studied with successful results. They help to reduce fatigue and prevent injuries during lifting, carrying, pushing, pulling, and overhead-positions tasks. Also exoskeletons have benefits as a communication tool in smart factories. they could interact with other systems such as automated guided robots in the supply chain, assembly tools, automated machines, and autonomous software, saving time during the assembly process of different products and reducing faults from operators.
Successful Implementation of Personal Assistive Exoskeleton
Ottobock
GERMANY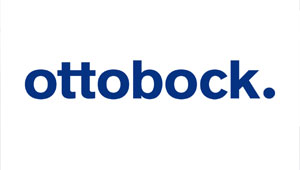 Ottobock experiences from work with Daimler, Airbus and SNCF. More details to come! www.ottobock.com
HAL® Technology by Cyberdyne Inc
Cyberdyne
GERMANY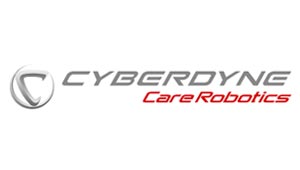 HAL® [Hybrid Assistive Limb®] from Cyberdyne Inc., Japan, is the world's first cyborg-type robot, by which a wearer's bodily functions can be improved, supported and enhanced. When a person moves the body, various signals are sent from the brain to muscles through nerves. Those signals leak on the skin surface as "bio-electric signals [BES]". HAL for Medical Use - Lower Limb Model reads the wearer's BES, accordingly compensates muscle power of lower limbs and assists him or her in walking, standing-up and sitting-down with his or her own legs. The brain confirms how the body moved on what sort of signals and becomes able to learn the way to emit necessary signals for walking gradually. This leads to the important first step in walking of a physically challenged person without being assisted by HAL®. Wearing of HAL® leads to a fusion of "man", "machine" and "information".
Machine Learning Techniques for Human-Robot Collaboration: Design and Validation of Control Algorithms
IDSIA
SWITZERLAND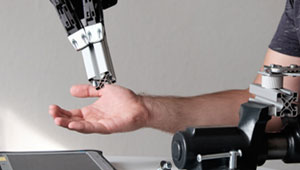 The presentation will described machine learning approaches that have been applied to the human-robot collaboration, considering the I4.0 scenario. In particular, the main focus is on the assistance and empowering of human operators in onerous and heavy applications. By identifying the intention of motion of the human (e.g., mapping the interaction dynamics), such approaches allow to support the operator even during the manipulation of unknown weight parts. The propsoed approaches have been validated in order to show the obtained high-performance in the human-robot co-manipulation of heavy parts. Such techniques have been firstly applied to a colaborative robot (KUKA iiwa 14 R820) and are going to be applied to an exoskeleton that has been designed within the CNR-STIIMA research institute.
Textile-based soft wearable actuators
Technische Universität Chemnitz
GERMANY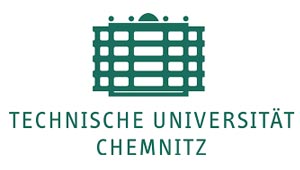 We will present the fabrication of two types of textile-based soft inflatable actuator which are made of a bladder wrapped by textile and enfolded inside textile parallel channels. The first actuator is made at different sizes to be used in a large range of wearable applications such as soft exosuits. Five actuator were attached to a commercial glove fingers and form a wearable glove, the glove shows different gestures and it is able to lift 9 [kg] weights. With a larger scale, the actuator was able to lift 20 [kg]. The second actuator shows flexible and versatile behaviour by exhibiting a wide range of motions such as bending, expanding, and twisting. Hybrid actuation (cable-driven, and pneumatics) allows online programing of behaviour and therefore a potential use in soft wearable exosuits.
Occupational exoskeletons: From laboratory research to integration in the companies
The French National Research and Safety Institute for the Prevention of Occupational Accidents and Diseases(INRS)
FRANCE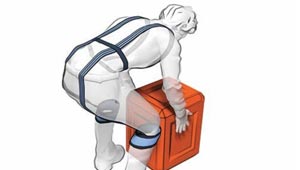 To deal with the prevalence of musculoskeletal disorders (MSD) in physically demanding tasks, research is focusing on the use of exoskeletons. Based on the available evidence underlying the claimed efficiency of exoskeletons in reducing biomechanical strains at work, this communication firstly aims at discussing the benefits and potential musculoskeletal risks associated with using these devices. At the light of the main deficiencies in current knowledge, the research necessary to develop future generations of exoskeletons also are presented. But, even if the potential of exoskeletons to attenuate muscular strains seems promising in laboratory, the ability to determine the value proposition of an exoskeleton in the workplace is difficult due to the variety of methods and metrics used, and the protean character of these technologies. In a second part, this communication presents a standard framework for the evaluation of the human-exoskeleton interaction, with the hope to improve their future integration.
Powerful Predictive Human Motion Models
Universität zu Lübeck
GERMANY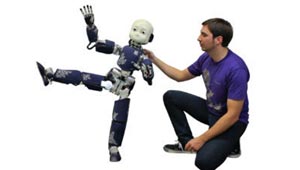 In the talk we will discuss how a probabilistic model can be used to predict complex human movements from observing only a few milliseconds of a subset of all recorded limb trajectories. The model can handle partial observable, missing data and is robust to sensor noise. In a postural control experiment, I demonstrate how this model can be used to predict goal directed right arm motions solely from observing the motion of the trunk or left arm. The model can be also used for active Exoskeleton control, model validation, classification or movement analyses and is as such interesting for a broad range of research approaches working with multi-modal motion data.
Benchmarking Industrial Exoskeleton Technology: Moving in Narrow Spaces
CTAG
SPAIN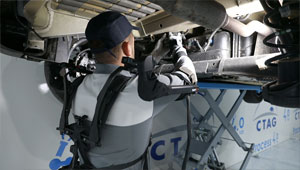 We will present the work in progress and lesson learned from the development of TestEd project. TestEd aims to design a testbed and software routines for "Moving in Narrow Spaces". We will link three use-cases from the manufacturing industry. The industrial exoskeleton centered TestEd will be implemented in industry with confidence. It is important to note the present method is efficient in identifying the local evaluation criteria performance of an exoskeleton in scientific fashion but lack the global performance perspective. Today, we predominantly use our experience and intuition for global performance. We like proposing the development of testing performance matrices on the basis of local and global performance. TestEd will develop performance matrices for the evaluation of the local and global evaluation criteria. It will provide a scientifically validated performance metric that can help testers, users and the OEM to quickly test their devices both in terms of the local evaluation criteria and global performance of the device. It can also lay the ground for the development of business models for the certification bodies around Europe.
Towards an enhanced workforce: moving from technological to managerial challenges
University of Twente
NETHERLANDS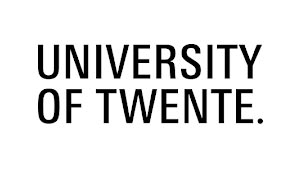 This presentation analyses the challenges that are raised by introducing human enhancement technologies to the workplace, for the purpose of making both the individual and the organisations perform better. A typology of approaches to organisational enhancement is described. We show how available technologies match these needs and highlight gaps which can inspire future developments by engineers. Then, we take one step further and question the acceptance and efficiency of such technologies. We show based on empirical data collected in an organization testing wearables for augmentation that resistance to the augmentation practice comes down to how organizations manage the implementation of the technology. It opens questions to how the technology can be designed for more procedural justice and areas for future research collaboration between developers, engineers, and social scientists, to shape the development of the augmentation market.